On 2014, LinkedIn officially introduced its new Sales Navigator update. This is not the first version of the product, but a huge update that we find useful to talk about. With this product, LinkedIn pretends to make the contact process with decision makers easy for salesmen, thanks to its more than 300 million high-qualified profiles on their database. This product is only available for premium users
A little bit of history
Back in August 2011, LinkedIn released a product called "LinkedIn for Salesforce" which, with time, would finally become the Sales Navigator. It allowed you to integrate your Salesforce and LinkedIn accounts, in order to have access to your Salesforce profiles and merge them with the social network, getting more information from your contacts.
What is the new LinkedIn Sales Navigator?
According to their blog's explanation, "Sales Navigator is a data-driven product that enhances the buyer-seller relationship and makes it more efficient. Tapping into the power of our network of 313 million members, and the data that underlies it, we make it easy for sales professionals to stay updated about key accounts, focus on the right people, and build trusted relationships along the way".
Some of the main key features are:
But, why is LinkedIn interested on deploying a new version for everyone?
Social Networks are useful far beyond checking your friend's holiday pictures and #Icebucketchallenge's all over the world. They can be used as a selling channel, a concept known today as Social Selling, that has become a way of generating lots of profit for people like Lewis Howes, one of the most known "social sellers" on LinkedIn.
And LinkedIn knows that its platform can be an awesome tool for you to increase sales. You can connect with millions of people in a wide range of categories and sectors, all over the world, that would be really difficult to connect with otherwise by using traditional channels like cold calls or emails.
But, first of all, let's check some data on why is it so important that we shift into a new selling reality:
There are, on average, 5.4 people involved in each buying decision process. (These are the people you need to contact in a traditional sales process until you reach the Decision Maker).
75% of B2B buyers use social media to be more informed on vendors.
76% of buyers prefer a vendor recommended by their network in order to trust her/him.
90% of Decision Makers never respond to a cold outreach.
Checking these numbers, it is quite clear that we need to develop our social selling skills and, if we are a company, integrate it into our strategy to sell our products.
So, how exactly is LinkedIn Sales Navigator going to help us boost our sales?
We were asking ourselves this same question, and that's why we took part on the LinkedIn's EMEA webinar presentation of the new Sales Navigator, hosted by Frank Hattan and Anita Windisman:
They were talking about the 3 objectives that LinkedIn is trying to solve with its new product: focus on the right people on the right companies, stay informed and build trust.
1. Focus on the right people
By changing your settings and introducing which people and sectors are you interested in, LinkedIn's algorithm will automatically start showing you the people profiles and company pages that are more relevant to you. You can then save the leads that fit your needs and see company's updates. Also, you can use advanced search to check if there's someone else who would be interesting as well.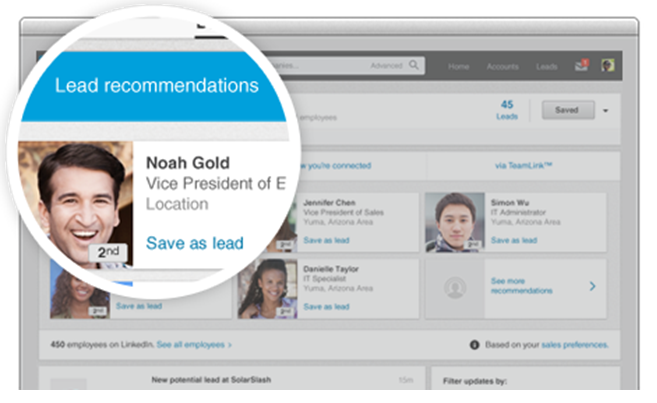 Source: LinkedIn
2. Stay informed
You'll get sales insights in order to do a more effective selling. You'll be able to see what are your leads sharing, if they've changed their role in the company, which are the new potential leads of a company or if they've been mentioned lately on the news.
Also, with the Sales Navigator, you'll be able to access and contact all LinkedIn's database, far beyond from your 3rd degree, and unlock their full profile. (Remember that LinkedIn works based on degree connections, being the 1st-degree ones your contacts; 2nd-degree ones your contacts' contacts with whom you are not linked; and 3rd-degree ones, people with whom there are 2 degrees of contacts between you and your targets, so you can't see their full profile.)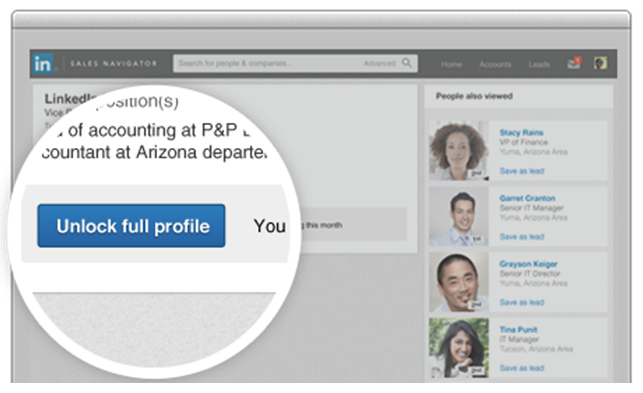 Source: LinkedIn
3. Build trusted relationships
You won't buy something from someone you don't trust right? Well, same happens with people who don't know you. You'll be able to create a much powerful profile that will allow you to generate a much better reputation for when you contact new leads by InMailing them.
So, we can see that Social Selling era is here to stay and replace the old and annoying cold prospecting era. If the new LinkedIn Sales Navigator can simplify this process for us, then it will be worth giving it a try (but don't forget that, on the end, although connections can be made online, relationships are made offline, so at some point we'll have to see our faces or listen to our voices. Social selling will ease the path of contacting, but won't replace the person).
If you need more information or you want to contact their sales department for a demo, check LinkedIn's Business webpage.
And, If you are interested in developing your own LikedIn or Social Media strategy for your business, don't hesitate to contact us!